PAST EVENTS
More details of the Hincaster Trailways project can be found at http://www.hincastertrailway.co.uk/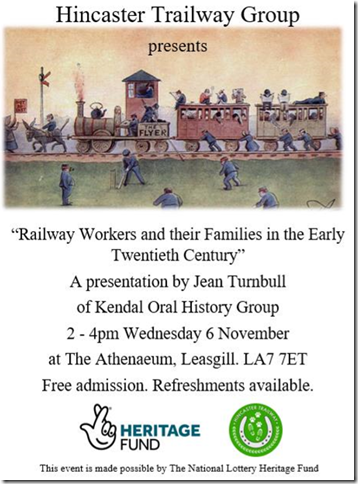 "Stay and Spend, Retail and Relax"
Download the poster here
Our winter exhibition took place on Saturday November 16th. 10am-3pm in the Arnside Educational Institute and explored the History of Shops and Hotels in Arnside. Please contact us if you have any information relevant to this theme.
The archive group contributed to two events taking place on Saturday September 14th: Vintage on the Prom and the Landscape Trust weekend event An Extraordinary Place.
We also had a stall at the Arnside Wellbeing Day on 12th October.
Our summer exhibition, featuring the history of transport in Arnside, took place in the AEI on Saturday June 15th. 2019. 'Are we nearly there yet' looked at methods of travel to and from and around Arnside from horses to buses, trains, bicycles and boats and even planes!
Contributions are still welcome, especially pictures and experiences of road transport (buses, coaches, cars).
The exhibition coincided with the anniversary of 100 years of Ribble Buses and a vintage bus visited the promenade as part of the celebrations.
The archive group AGM took place on April 17th 2019. See the chair's report here
The friends of Severn organised a conference at the Arnside Educational Institute on Saturday March 16th on the theme of Crossfields of Arnside and their Boats
An account of the conference written by Eric Crossfield can be found here