Francis John Crossfield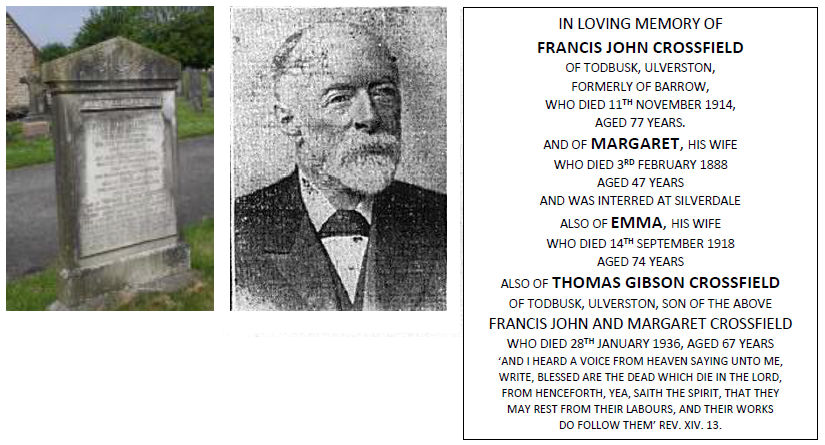 22 Francis John Crossfield d 11 November 1914 of Todbusk, Ulverston
An imposing memorial in Ulverston Cemetery. Francis Crossfield was a wealthy man who had made his money as a timber merchant.
Barrow News 14 November 1914 reported on his death:
DEATH OF MR. F. J. CROSSFIELD, J.P.
A STRENUOUS CAREER ENDED
We regret to announce the death of Mr. F. J. Crossfield, J.P. of the well-known firm of Messrs. Crossfield and Co., timber merchants and importers, of Barrow, which occurred on Wednesday at his residence, Todbusk, Ulverston, in his 78th year, after four days of illness. The deceased gentleman, who was fairly hale and hearty, considering his advanced age, was going about as usual apparently in his usual health on Saturday, but shortly before one o'clock on that day he suddenly collapsed owing to an alarming seizure. Medical assistance was promptly summoned, and Drs. Bowman and Ashburner were quickly in attendance. It was soon realised that Mr. Crossfield was beyond human skill, and he remained in a comatose condition until he passed away.
The deceased gentleman, born in Arnside on July 23rd, 1937, was the representative of a well-known firm of shipbuilders. He began a strenuous commercial life in the office of Messrs. Brogden and Sons, the contractors for the Ulverston and Lancaster Railway, which was situate in Lightburne House, afterwards the County Hotel, and now the site of the Public Hall, and subsequently was for some time a member of the booking office staff at the Railway Station. Exactly half a century ago, viz. In 1864, Mr. Crossfield went to Barrow, where he started in the lathesplitting business in Paradise-street, and later on went into the mining timber trade, working up a very considerable business until in 1892 he took over the extensive and prosperous timber importing concern of Messrs. Price, Walker and Co., Ltd. which he carried on first on his own account and later in partnership with his two sons Thomas and Robert. In 1910 he retired from the firm, which is, however, still carried on by his sons under the title of Crossfield and Co. He was for some years a member of the old Barrow School Board, and part of the time filled the office of vice-chairman. On more than one occasion he was invited to contest Central Ward for a seat on the Borough Council, but declined the honour. He sat on the Barrow Bench of Magistrates for some years, and in 1903 was placed on the Commission of the Peace for the County. A non-smoker, a life-long abstainer, and strong temperance advocate, he was President of the Ulverston Total Abstinence Society, and also of the Ulverston Lecture Association; and a Vice-President of the North Lonsdale Liberal Association. He was an influential member and munificent supporter of the Wesleyan Church, and took a great interest in its work, both in the Ulverston Circuit and further afield. He was a member of the Carlisle District Synod for many years, a representative to the annual Wesleyan Conference, an ex-circuit steward, a local preacher, and a class leader, and a trustee of the new Wesleyan Church at Ulverston. In the earlier days of the Salvation Army in Barrow he frequently appeared on its platform as a generous supporter, and had the honour of entertaining the late General Booth on his visit to Furness in connection with his motor campaign. Since his removal from Barrow to Ulverston in 1899, Mr. Crossfield has taken a great deal of interest in agriculture, and was very fond of an outdoor life. He also evinced a kindly consideration for the aged poor of Ulverston, and in association with this his two great personal friends, Mr. Jno. Brewer and Mr. Wm Settle, had for many years provided the annual treat for the old men of the town. The deceased gentleman was married at Beetham Church on December 7th 1854, to Margaret, daughter of the late Robert Gibson, of Arnside Tower, who died in 1888, and of their family there are still surviving two sons and three daughters. Later he married Emma, daughter of the late Thomas Martin, of London, who still survives him.
Barrow News 9 January 1915 reported:
A LOCAL WILL THE ESTATE OF THE LATE MR. F. J. CROSSFIELD
Mr. Francis John Crossfield, of Todbusk, Ulverston, and late of Barrow-in-Furness, timber merchant, of the firm of Messrs. Crossfield and Co., of Barrow, Fleetwood, Preston and Manchester, J.P. for Lancs. who died on the 11th of November, left estate of the gross value of £50,901 18s, of which the net personality has been sworn at £30,415 4s 3d. Probate of his will has been granted to the sons of Mr. Thomas Gibson Crossfield, of the same address, and Mr.
Robert Crossfield, of Ford House, Ulverston, timber importers. NB These are HIS sons, but maybe probate was granted to his grandsons.
The testator left to his wife, Mrs. Emma Crossfield, the use for life of his household effects, with remainder to his children, and he directed that her income with that from marriage settlement funds should be made up to £750 per annum. All his other property he left to his children in equal shares, the shares of his daughters being retained upon trust for their benefit, and directing that his son Thomas should have the option of the purchase of Todbusk.
Todbusk was built for Barrow iron foundry owner David Caird. He only became an iron master later in life as he had originally come to Barrow to build the Scotch tenements for steelworkers at Hindpool. He also built North and South Row at Roose, the Barrow Island flats and the railway stations at Carnforth and Millom.1
[A guide to desirable Victorian residences was given by mines expert Jonathan Wignall last Friday when he talked about Furness Ironmasters to members of the Ulverston local history group Heritage First!] BMyers
Friday, 01 June 2007 NWEM