NEWS and EVENTS
Our next exhibition will be organised at the Education Institute's AGM and will celebrate the life and work of the EI's major benefactor, Joyce Nicholson.
Current and Recent Exhibitions
"Stay and Spend, Retail and Relax"
Download the poster here
Our winter exhibition took place on Saturday November 16th. 10am-3pm in the Arnside Educational Institute and explored the History of Shops and Hotels in Arnside.
70 people visited the exhibition and many contributed their memories of earlier businesses.
Exhibition materials will soon be on this website.
Please contact us if you have any information relevant to this theme.
..............................
The archive group contributed to two events taking place on Saturday September 14th:
Vintage on the Prom
and the Landscape Trust weekend event
An Extraordinary Place
.
We also had a stall at the Arnside Wellbeing Day on 12th October.
Ziska – from Arnside to Alaska
Sun 25 & Mon 26 August
Arnside Sailing Club are holding an exhibition in their Clubhouse on the Promenade on the history of Ziska a yacht built in Arnside in 1903 which took part in the Race2Alaska in June 2019.You can read more about Ziska and the race on her facebook site.......................
Our summer exhibition "Are we nearly there yet?" was held on15th June at the Arnside Educational Institute. It focussed on Arnside's transport during the decades illustrating the changes in transportation within the village over the years. The exhibition also coincided with the 100th anniversary of the Ribble Bus Company who served Arnside for over 40 years. and there was a vintage Ribble bus on the Prom for visitors to view as well as artefacts from the famous "red bus" company at the exhibition.
A related talk Any More Fares Please? by Bill Robinson was organised by Mourholme Local History Society on the 24th April in Yealand Village Hall. This looked at the development of rural bus services in our corner of the North West after the First World War, from the early pioneers to the eventual monopoly of Ribble Motor Services. The talk included a short film, made by Ribble in the early 1960s to encourage Lancashire County Council to complete the Preston and Lancaster by-passes.
------------------------------
The archive group's AGM took place on April 17th 2019.
See the chair's report here
The Maritime Heritage Interpretation Board is now installed on the prom near Ashmeadow House!!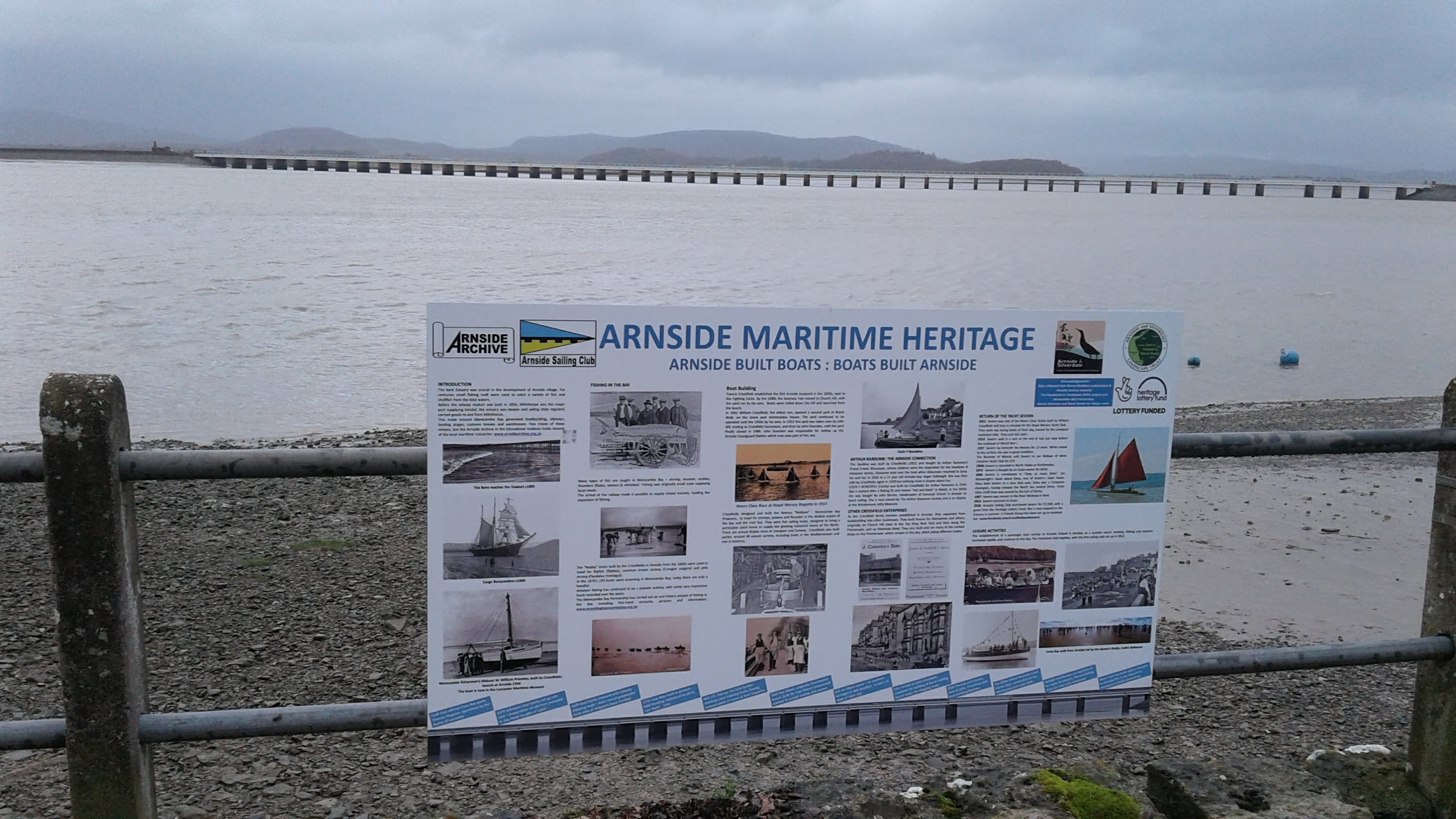 The board was made possible by a grant from the AONB. It was designed by Vivien Mautner, and printed and assembled by Mike Ormerod.
Crossfields of Arnside and their Boats Conference PDF CLICK HERE
Saturday 16th March 2019 at 10:30am
Arnside Educational Institute, Church Hill, Arnside LA5 0DF
Arnside's World War One Nov 10th 2018

Arnsides Maritime Heritage July 14-15th 2018