Fishing in the Bay
Many types of fish are caught in Morecambe Bay - these are seasonal and good times for fishing will depend on the tides and weather. Knowing the movement of the water is crucial for successful catches and for safety.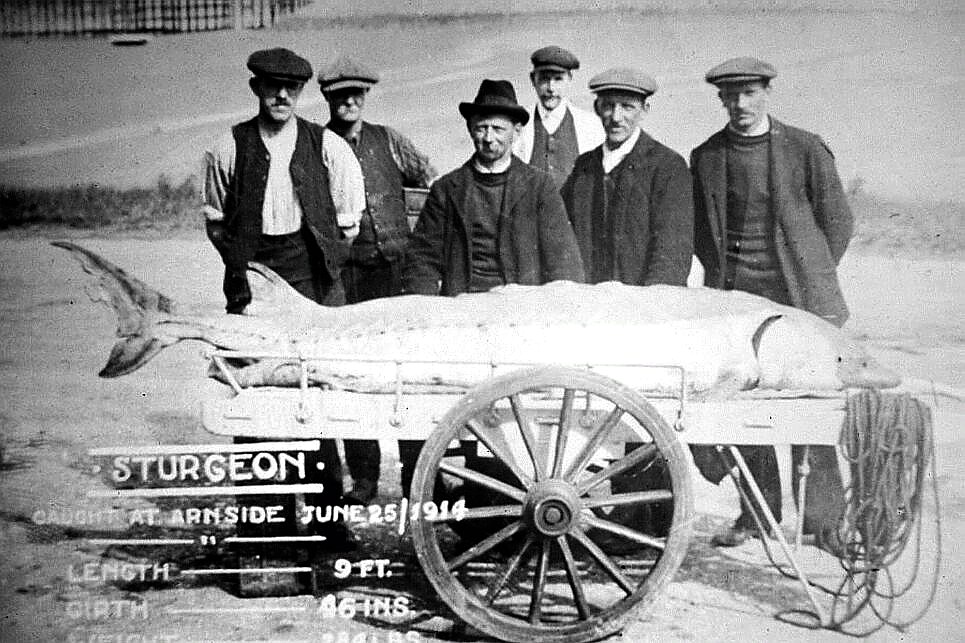 In 1770 the Arnside fishery was described as being next to Carlisle for quality.(1)
In the 1870's 150 boats were fishing and prawning in Morecambe Bay but by 1976 less than a dozen were working.(2)
Fish populations also move around the coastal waters of the Bay (see spawning map). The "Nobby" boats built in Arnside were primarily used as trawl boats, designed to catch three of the fish plentiful in the Bay: flatfish (flatties), common brown shimp (Crangon vulgaris) and pink shrimp (Pandalus montagui).
In 1868 the government set up a register of fishing boats and created the three-mile limit to British fishing rights in the sea. Over the ensuing years more by-laws to regulate methods of fishing and protect stocks and the safety of fishermen have been introduced.
There have also been big changes in the kinds of equipment and tools available. The arrival of the railway and introduction of refrigeration were important milestones affecting the speed at which catches could be delivered to their customers.
The Morecambe Bay Partnership H2H project has carried out an oral history project of fishing in the Bay and have a website with first-hand accounts, pictures and information: Click Here
A notorious disaster happened in 2004 when at least 21 Chinese cockle pickers were drowned in the waters of bay